CrossClimate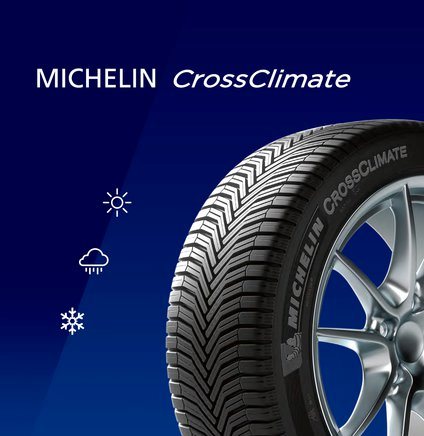 All-season tire
NYMEO: Creation of the name CrossClimate
The history: MICHELIN now offers revolutionary innovation, high-end, high-performance tires that adapt for dry, wet and even snowy roads. To name this great novelty, MICHELIN called NYMEO, a specialist in a name creation and already creator of tire names for the brands of the MICHELIN group.
NYMEO's proven method was applied to determine the name that perfectly matches the innovation in question. Rigorous work by the creative team and the involvement of MICHELIN managers led to the choice of the international name: CrossClimate.
Creation of the name CrossClimate: literally, it can be translated as "crosses climates", which fully expresses the idea conveyed by this breakthrough innovation in the field of tires. The English-speaking origin of the name reflects the international vocation of this new range of tires. CrossClimate is written in a single word without separating the two terms Cross and Climate but keeping the capital letters which makes it possible to represent the adaptation to the two seasons: summer and winter; and weather variations: dry weather and precipitation. In addition, the prefix "Cross" is often associated with the concept of "all terrain" in the idea that the tire can go anywhere, which further reinforces the idea of ​​adaptation.